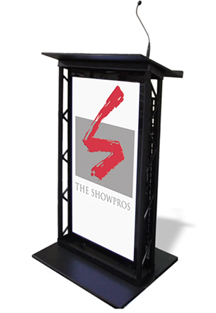 The all new Showpros Digital Podium© is a break-through visual experience delivered on a built-in high definition plasma screen. With every eye in the audience focused on the speaker the Showpros Digital Podium© delivers crisp, clear visual messaging.Display a logo, theme graphics, words and pictures — the Showpros Digital Podium© can be set up with a static image or to display multiple images in slide show format, controlled at the podium or remotely.
Your clients will want to add this exciting new visual experience to their A/V equipment order!
42" High Definition Plasma Screen,
Black Aluminum Truss Frame, 18"
Condenser microphone (single or double available)
Overall dimensions: 24" x 30" x 45"
Automated control via VGA or USB port
Call for quote.
FOR MORE INFORMATION CALL: (949) 464-0043 OR EMAIL: INFO@THESHOWPROS.COM
Allow two (2) weeks for delivery on purchase. Rental reservation must be made at least 3 weeks in advance of an event