CONTENT DEVELOPMENT
Telling your story for your audience is at the heart of what we do. Stories that engage your audience. Stories that elevate your brand image. Stories that move your message to meaning. We help our clients create the strategy and develop a plan that puts words into action.
DESIGN & PRODUCTION
Our team of creative writers, designers, videographers and producers work from the ground up to make every event unique to your brand and audience.  We create a vision and bring it to life for your audience to connect and engage.
SHOWTIME!
When the doors open your audience is ushered into a seamless experience – from show control to stage management, everything comes off just as you scripted.

The Dataton Watchout system is a revolutionary AV tool for large scale Audio Visual events and fixed AV installations. This multi display control tool allows The Showpros production team to seemlessly control multiple display/projection of images, video, sound and animations, intermixed with live camera feeds, digital input from clients laptops, smart devices. The end result is… QUALITY WIDESCREEN SHOWS that are pin sharp! READ MORE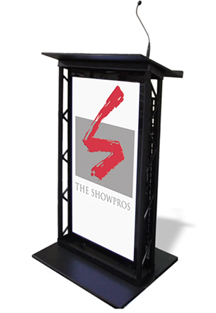 The all new Showpros Digital Podium© is a break-through visual experience delivered on a built-in high definition screen. With every eye in the audience focused on the speaker the Showpros Digital Podium© delivers crisp, clear visual messaging. FIND OUT MORE
Why Choose Us?
We are a full-service production company able to provide all of your creative and production needs.
Over 35 years producing content and live events at venues worldwide.
A keen desire to understand your goals and help produce your success.
Our cost-conscience approach ensures the best value for your investment.
Focused on detail so your audience experience is seamless and impactful.
A Few of Our Happy Clients